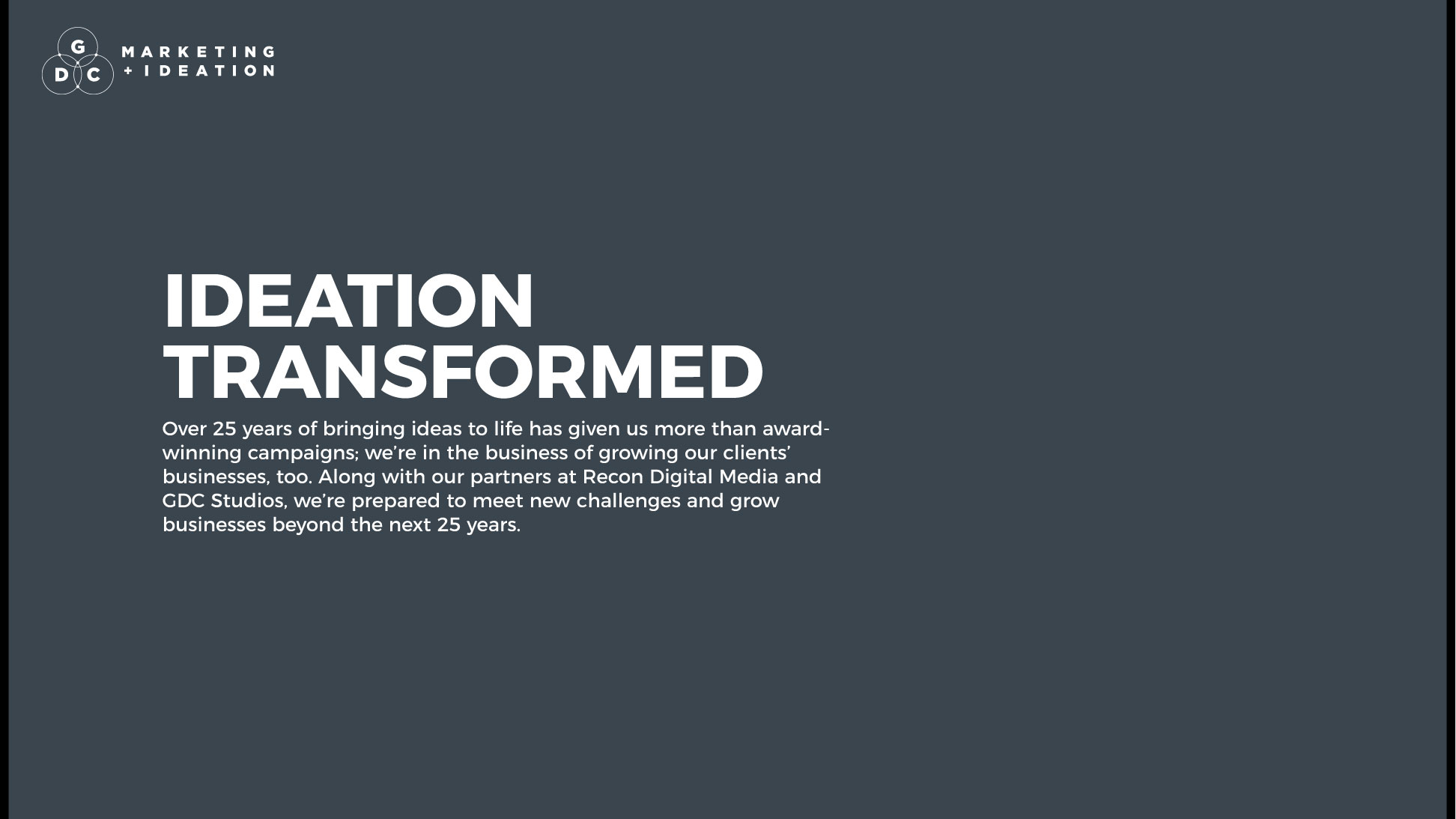 AT GDC
OUR WORK SPEAKS FOR ITSELF
From iconic brands like Don't mess with Texas® to local nonprofits like Rise Recovery who impact our community, we've helped all types of organizations engage their audiences and reach their goals.
OUR AWARD WINNING
CREATIVE IS ONLY PART OF THE GDC STORY.
Great campaigns are all backed up by research, experience and results. Take a look at our case studies above and see how we help our clients succeed.
 A FEW OF OUR AWARDS
AMA Marketing Excellence Awards: Best in Show; 1st place in retail: "One Hour Heating & Air Conditioning: Millennial Homeowner Campaign"
January 2023, SABJ Business of the Year for 2022
The Jane Edwards Award: 2022 Rise Recovery: 

Outstanding Business Servant Leadership 

AAF - San Antonio 2021 American Advertising Awards:

Gold,

Film, Video, & Sound; Television Advertising - Regional/National, Single Spot - up to 2:00:

Don't Mess with Texas Pride PSA 

AAF - San Antonio 2020 American Advertising Awards 

Gold 

GDC Marketing and Ideation 

Online/Interactive, Apps, Games, and Virtual Reality, Games

Plan to win impaired driving trivia 

AAF - San Antonio 2020 American Advertising Awards 

Gold 

GDC Marketing and Ideation 

Elements of Advertising, Digital Creative Technology, User Experience 

Plan to win impaired driving trivia 

AAF - San Antonio 2018 American Advertising Awards 

Gold 

GDC Marketing and Ideation 

The Witte Museum Grand Re-Opening 

Integrated Advertising Campaigns Consumer Campaigns Local 

AAF - San Antonio 2018 American Advertising Awards 

Best of Show 

GDC Marketing and Ideation 

The Witte Museum Grand Re-Opening 

Integrated Advertising Campaigns - Consumer Campaign Local 

American Marketing Association San Antonio - 2018 Marketing Excellence Awards 

1st Place GDC Marketing and Ideation 

Tourism/Entertainment 

"The New Witte Museum Grand Re-Opening 

AAF - American Advertising Federation San Antonio 

Gold ADDY 2017

GDC Marketing & Ideation 

Ambient Media - Single Installation 

Texas Department of Transportation 

Texas Road Watchers 

AAF - American Advertising Federation San Antonio 

Gold ADDY 2017

GDC Marketing & Ideation 

Ambient Media - Single Installation 

Texas Department of Transportation 

Impaired Dodgeball Truck 

2017 Telly Award  

GDC Marketing & Ideation 

TxDOT 

"I Didn't Plan" 

Top Regional PSA

2017 Telly Award  

GDC Marketing & Ideation 

TxDOT 

"Double Cross" 

Top Regional PSA

2017 Telly Award  

GDC Marketing & Ideation 

TxDOT 

"Reflectors" 

Top Regional PSA

2017 Walk like Madd Friend of MADD Sponsor 

GDC Marketing and Ideation

2016 Walk like Madd Individual Sponsor 

GDC Marketing and Ideation 

2015 Telly Award  

GDC Marketing & Ideation 

Best B2C Commercial 

"Bear Heart"

ClearTalk Wireless 

2015 Telly Award  

GDC Marketing & Ideation 

Best B2C Commercial 

"Resolute & Ready" 

Resolute Health 

2015 Telly Award  

GDC Marketing & Ideation 

Best B2C Commercial 

"Goggles"

ClearTalk Wireless 

2015 Telly Award  

GDC Marketing & Ideation 

Best B2C Commercial 

"Lucha Libre" 

ClearTalk Wireless 

2014 Telly Award  

GDC Marketing & Ideation 

Best B2C Commercial 

"Exam"

ClearTalk Wireless 

2014 Telly Award  

GDC Marketing & Ideation 

Best B2C Commercial 

"Joyful Moments - Ortho" 

Baptist Health System 

2014 Telly Award  

GDC Marketing & Ideation 

Best B2C Commercial 

"Rise-Up" 

Resolute Health 

2014 Telly Award  

GDC Marketing & Ideation 

ClearTalk Wireless 

"Uncensored Video" 

Branded Content 

2014 Telly Award  

GDC Marketing & Ideation 

ClearTalk Wireless 

"Uncensored Video" 

Viral Video 

2013 Telly Award  

GDC Marketing & Ideation 

Best Hospital Campaign 

"That's Baptist Care"

Baptist Health System 

2013 Telly Award  

GDC Marketing & Ideation 

Art Direction 

"That's Baptist Care"

Baptist Health System 

2013 Telly Award  

GDC Marketing & Ideation 

Best B2C Campaign 

"That's Baptist Care" 

Baptist Health System

Top Small Workplaces 2007 

Presented by: The Wall Street Journal & Winning Workplaces 

To: GUERRA DeBERRY COODY

Recognizing innovation and leadership in establishing a great workplace 

2005 American Advertising Federation San Antonio

Gold

ADDY 

Gold ADDY Awards 2005 

American Advertising Federation San Antonio

Awarded to: 

"GUERRA DeBERRY COODY Agency Collateral"

GUERRA DeBERRY COODY 

Advertising Industry Self-Promotion 

Creative Services - Collateral 

GUERRA DeBERRY COODY 

Contributors: 

Creative Director - Tommy Richards 

Art Director/Designer - Alexis Valasquez 

Senior Copywriter - Beverly Ingle 

Copywriter - Burgin Streetman 

Silver ADDY Awards 2005 

American Advertising Federation San Antonio

Awarded to: 

"2004 NCR Gala Invitation" 

Neighborhood Commercial Revitalization Program 

Collateral Material 

Special Event Material - Invitation 

GUERRA DeBERRY COODY 

Contributors: 

Art Director/Designer - Alexis Valasquez 

Designer - Ron Martinez 

Copywriter - Beverly Ingle 

Silver ADDY Awards 2005 

American Advertising Federation San Antonio

Awarded to: 

"2004 GUERRA DeBERRY COODY Christmas Invitation" 

GUERRA DeBERRY COODY 

Advertising Industry Self-Promotion 

Creative Services - Cards/Invitations 

GUERRA DeBERRY COODY 

Contributors: 

Art Director - Alexis Valasquez 

Art Director - John Gonzales 

Copywriter - Beverly Ingle 

Illustrator - Mark Oehlert 

Creative Director - Tommy Richards 

Silver ADDY Awards 2005 

American Advertising Federation San Antonio

Awarded to: 

"NCR Program/Brochure"

Neighborhood Commercial Revitalization Program

Sales Promotion 

Product or Service Sales Presentation - Sales Kits 

GUERRA DeBERRY COODY 

Contributors: 

Art Director/Designer - Alexis Valasquez 

Designer - Ron Martinez 

Designer - Melissa Burnett 

Designer - Emi Ramirez-Hunt 

Copywriter - Beverly Ingle 

Silver ADDY Awards 2005 

American Advertising Federation San Antonio

Awarded to: 

"Accion Texas 10th Anniversary Luncheon Invitation"

Accion Texas 

Collateral Material 

Special Event Material - Invitation 

GUERRA DeBERRY COODY 

Contributors: 

Art Director/Designer - Alexis Valasquez 

Copywriter - Beverly Ingle 

Illustrator - Jesse Flores 

Designer - Ron Martinez 

Bronze ADDY Awards 2005

American Advertising Federation San Antonio

Awarded to: 

"North Central Baptist Pregnancy Folder" 

"North Central Baptist Hospital Sales Promotion 

Product or Service Sales Presentation - Sales Kits 

GUERRA DeBERRY COODY 

Contributors: 

Creative Director/Designer - Tommy Richards 

Designer - Melissa Burnett 

Art Director - Josh Gonzales 

Designer - Emi Ramirez-Hunt 

Bronze ADDY Awards 2005 

American Advertising Federation San Antonio

Awarded to: 

"NCR Gala Program and Invitation" 

Neighborhood Commercial Revitalization Program 

Collateral Material 

Special Event Material - Campaign 

GUERRA DeBERRY COODY 

Contributors: 

Art Director - Alexis Valasquez 

Copywriter - Beverly Ingle 

Designer/Photography - Ron Martinez 

Designer - Melissa Burnett 

Designer - Emi Ramirez-Hunt

Bronze ADDY Awards 2005 

American Advertising Federation San Antonio

Awarded to: 

"Accion Texas 10th Anniversary Luncheon Invite/Program"

Accion Texas 

Collateral Material 

Special Event Material - Campaign 

GUERRA DeBERRY COODY 

Contributors: 

Art Director - Alexis Valasquez 

Copywriter - Beverly Ingle 

Illustrator - Jesse Flores 

Designer - Ron Martinez 

The Good, The Bad, & The ADDYS

Gold ADDY 

GDC Marketing and Ideation 

Television Advertising - Regional/National - Single Spot - Up to 2:00

Don't Mess with Texas Pride PSA

The Good, The Bad, & The ADDYS

Silver ADDY 

GDC Marketing and Ideation 

Television Advertising - Regional/National - Single Spot - Up to 2:00

Side Effects PSA

Valued Member 

North San Antonio Chamber 

Keeping Bexar County Strong 
Video awards 
Marcom 2021

Gold 2021 Don't mess with Texas-Black Pumas "Together" Video/Audio|Televison (Broadcast & Cable) | PSA

Gold 2021 Don't mess with Texas-Black Pumas "Together" Video/Audio | Video/Film | Informational

Gold 2021 Don't mess with Texas-Black Pumas "Together" Video/Audio | Audio/Radio | PSA

Viddy Awards 2022

Gold 2022 Don't mess with Texas-Black Pumas "Together" Short Form Web Video < 3 minutes Environmental Causes

Gold 2022 Don't mess with Texas-Black Pumas "Together" Commercials | Broadcast/Non-Broadcast/Web Commercials | PSA

Ragan Awards 2022

Grand Prize Best Overall Video-Honorable Mention Don't mess with Texas-Black Pumas "Together" Educational Video-Honorable Mention Don't mess with Texas-Black Pumas "Together"

Communicator Awards 2022

Distinguished Don't mess with Texas-Black Pumas "Together"

Addy Awards 2022

Bronze 2022 Public Service > Film, Video & Sound > 089 – Public Service Television Don't mess with Texas-Black Pumas "Together"

Bronze 2022 Public Service > Film, Video & Sound > 090 – Public Service Radio Page 2 of 3 Don't mess with Texas-Black Pumas "Together"

Bronze 2022 Public Service > Film, Video & Sound > 091 – Public Service Online Film, Video & Sound Don't mess with Texas-Black Pumas "Together"